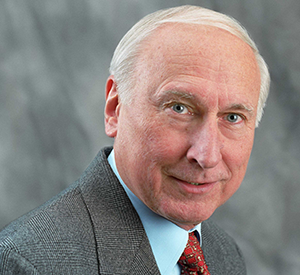 Co-founder of Analog Devices, Inc. (ADI); CEO, Chairman until 1996; Chairman of the ADI Board
Mr. Stata was a co-founder of Analog Devices, Inc. (ADI) in 1965 and served as CEO and Chairman until 1996. He now serves as Chairman of the Board. With sales of $3.4B, ADI is recognized for leadership in the design and manufacture of analog and digital signal processing semiconductors. Mr. Stata has been active as an investor in and board member of more than 40 early stage technology based new ventures.
Mr. Stata, class of '57, holds a BSEE and MSEE from MIT. Until 2010 he served for many years as Chairman of the Visiting Committee of the Department of Electrical Engineering and Computer Science and as a member of MIT's Executive Committee and the MIT Corporation. He also served on the visiting committees for Sponsored Research and for Linguistics and Philosophy. He is presently a member of the Dean of Engineering Advisory Council. He is also actively engaged in MIT's Venture Mentoring Service which advises students and faculty who wish to become entrepreneurs.